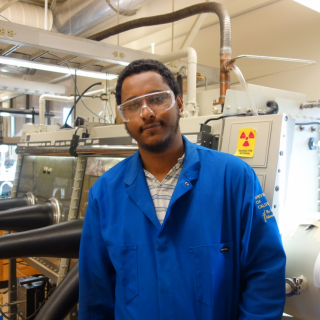 Mikiyas Assefa
Graduate Student
Email:
massefa@chem.ucsb.edu
Education
Chemistry and Physics B.A., Berea College, 2015
Biography
Mikiyas (also known as Big Mac among his friends) comes from Addis Ababa, Ethiopia where he enjoyed authentic Ethiopian food. He received his B.A. in Chemistry and Physics from Berea College, where he did research on Solid State NMR spectrscopy of phosphate glasses under the tutelage of Dr. Jay Baltisberger. He also has research experience with DFT calculations of transition metal carbonyl clusters at the University of Georgia, under the guidance of Dr. Michael Duncan. Mikiyas is officially addicted to English Football (Soccer), playing pool, table tennis and foosball.
Research Area
Mikiyas' research is focused on synthesis and characterization of new lanthanide and actinide coordination complexes. In particular, he is trying to stabilize high oxidation state rare earth metal centers by making use of poly-dentate chelating agents. He is also interested in stabilization of lanthanide-ligand multiple bonds. One goal of this research is to understand f-orbital bonding in these new classes of coordination compounds. Another research interest is to explore the chemistry of high valent lanthanides, including their small molecule activation chemistry and metal-mediated organic transformations.